Archive for the 'club nights' Category
Analysis: an exhibition about Cork's Sir Henry's was an opportunity to show its historical, geographical, cultural and social importance
All day event taking place tomorrow, Saturday 18th.
5-9pm Gulpd café (at Triskel Arts Centre / Plugd Records) – No cover charge
10pm-2am The Pavilion – Admission €5
Dubday happens on Saturday June 18th 2011. Dub music is the theme varying from chilled out dub to heavy bass as artists play a wide spectrum of music in two locations. Gulpd cafe at the Triskel showcases local and international artists from World Bass Culture including Man-G, Kukura and Spetz with special guests Rass Tinny, Harry J and others. The Pavilion, Carey's Lane, hosts the second part of the event. Line up includes T-Lab (Toby Eaton, Wiggle) and Psymonok (WATTA) with visuals by VJ Present.
More information at dubday.blogspot.com and pavilioncork.com
I'm lazy so this is almost word for word a copy & paste of the press release. Fair play to Freakscene, 15 years is some achievement!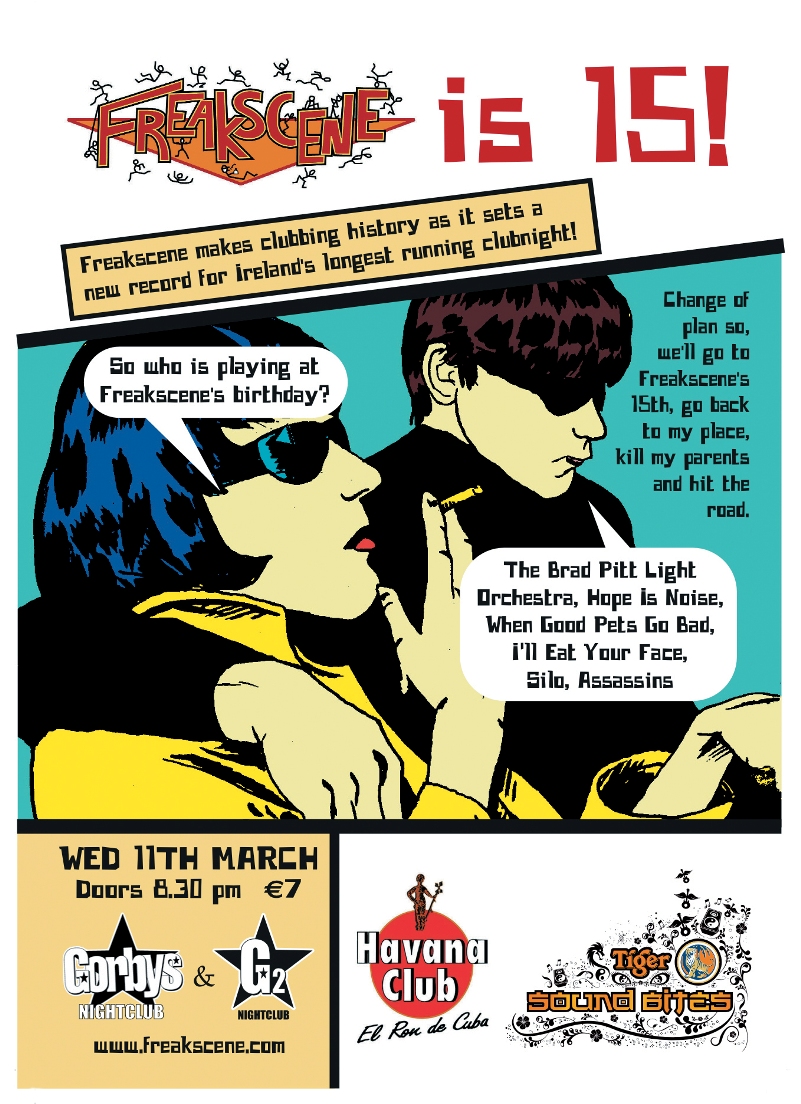 Freakscene will set a new record for Ireland's longest running club-night when it celebrates its 15th Birthday on March 11th.

Six up-and-coming bands have been invited to perform on the night. Though all of them (bar one, Assassins are a side project of a number of original Cork bands)) write their own material, the bands will be performing covers of their favourite Freakscene tunes on the night as well as a couple of their own songs so they get to showcase what they are about, as well as guaranteeing to rock the house for Freakscene's 15th!
Hope Is Noise


Hope is Noise were formed in late 2004 from the ashes of other musical adventures. Their recorded output includes 2 EPs "Words to burn you" (2005) 'The Worm Has Turned' (2006) and an album 'Applaud Friends, The Comedy Is Over' (2007), which has received much critical praise. Live performances have also attracted much attention as Hope is Noise have played extensively across Ireland as well as Europe and the west coast of America. They are currently getting ready to record their second album.
Hope is Noise is made up of four school friends who have been playing together in different bands for over 12 years. We jam, record and play live for the nothing more than the sheer enjoyment music gives us. Life should not just be a nine to five job.
Album: Hope is Noise :: 'Applaud Friends, The Comedy Is Over'
Record Label: Rimbaud Records/SquintandDraw Records
"This is a fine album, a hopeful album….a cut above the average….if you like your tuneful post-hardcore and bands like Whipping Boy and Hot Snakes and Trail Of The Dead, if you like clever anthemic rock with a little twist and turn and a little bit of details that makes them stand out from the crowd, if you like delivered with a caustic edge, then this is for you… rather good, like it lots"
— Organ Magazine
Hope Is Noise – Bakersfield California 2007
See 'Hope Is Noise' rocking California 2 years ago! Great song, brilliant performance!
The Brad Pitt Light Orchestra


The music of the indefinable Limerick phenomenon that is The Brad Pitt Light Orchestra's features a blend of warm vocal harmonies, classy instrumentation and ear-catching melodies. They are desperately hard to categorise yet strangely easy to love. Seeing them live has been described by one bystander (randomly chosen) as a vibrant, life-affirming experience.
'The Brad Pitt Light Orchestra are a seven-member band from all corners of Ireland, none of them named Brad. They cleverly released a beautiful festive song called December in time for Christmas, which I compared to Arcade Fire. I predict good things for them in 2009.'
— Alison Curtis – The Ticket
'Enjoyable and uplifting!'
— Paul McLoone – Today FM
'Best of the (Flatlake) fest, though, was Saturday's late-night performance from The Brad Pitt Light Orchestra. They had us waltzing in the big top.'
— Alan O'Riordan – Irish Examiner
When Good Pets Go Bad


When Good Pets Go Bad are a Cork based four piece influenced by bands such as Sonic Youth, The Pixies and The Rapture to name but a few!
When Good Pets Go Bad came onto the scene in Cork in July 2008 they lost four consecutive battle of the bands but despite this the group's infamous ego has not been bruised, they have soldiered on, and continue to write their own unique brand of top class rock n' roll! After playing support slots with the likes of Fred and Sultans of Ping, they have become the critic's choice, some even going as far as to label the band as 'grand like'. When Good Pets Go Bad are not a band to be missed!
YouTube



Talula perfomed live at The Triskel!
www.myspace.com/whengoodpetsgobadmusic
Silo

"It's punky, it's raw, it's honest, it's not complicated. I love it to bits."
— Cormac Battle on "Unlucky for Some", 2fm (Feb '09)
"… if they'd been around [Seattle] in the mid-'90s, Sub-Pop would've signed them in a heartbeat. Tight and turbulent, 'Unlucky for Some' has a dark, angsty, throw-yourself-around-the-room energy."
— Olaf Tyaransen, Hot Press (Jan '09)
"… full of energy and attitude"
— Jackie Hayden, Hot Press (Dec '08)
"…I'm glad this band was brought to my attention. They are the best Irish band I have heard since I laid ears on Berkeley a few years ago, who coincidentally share a similar '90s post-indie rock sound as Silo. Just because you don't live in Ireland, that is no excuse not to support this band… rating 5/5"
— www.siczine.com (Nov '08)
"Silo are very good at what they do – it is loud, it is pumping and it is full, oh so full of angst … their popularity is more than justified"
— www.redtrackmusic.com (Oct '08)
Silo are a four-piece alternative rock band from Cork, Ireland. Since forming in 2001 the band have gone through numerous line-up changes, seeing them develop musically into one of Cork's premier original acts. The current line up, which has been intact since the summer of 2007, brought brothers Shane and Cian O'Leary together with original members Philip Murphy and Eoin Ryan.
Since this union, the band has taken leaps and bounds developing their sound into a rocking yet melodic force. Not only have Silo played extensively throughout Ireland but they have also been invited to showcase their music in London by management companies and record labels.
An early demo saw the band being picked for the National Student Music Awards in 2008. Later in 2008 the band recorded and released their debut single "Unlucky for Some" to a vibrant reaction from the Cork music scene and 2009 will see the band attempt to build on this success throughout the rest of the country.
The band were "Pick of the Fortnight" in Jackie Hayden's First Cuts column in Hot Press for the same single which led to it receiving regular airplay on most of Ireland's radio stations. The single also received an extremely positive review in the following issue of the magazine.
Silo recorded a live session for Cormac Battle's 2fm show in early 2009 which was featured last Sunday, showcasing some brand new material which will be featured on their upcoming debut album. Work on said album is heavily underway and the band
is booked in to begin recording in July 2009.
I'll Eat Your Face


I'll Eat Your Face arrived from planet Cans to entertain and irritate with their short, fast songs and even shorter and faster pants. By mixing the sounds of a kango-hammer and a man shouting over a cartoon, IEYF are the ideal way to start any night of disgraceful debauchery and good-time lunacy with their succulent nonsense. I'll Eat Your Face intend to IMPREGNATE the WORLD with their DIABOLICAL GUFF.
"I'll Eat Your Face are anything but a rational band, and more a primal force of nature"
— Metalireland.com, Feb 09
www.myspace.com/illeatyourfaceireland
Assassins

Assassins will take no prisoners on March 11th with a carefully chosen set of Electronica, Rock and Industrial
Freakscene classics from artists such as Nine Inch Nails, Smashing Pumkins, Muse, Pendulum etc.
Assassins are a Cork supergroup of sorts made up of members from bands such as Echogram, Carbon Copy, Alterosa and My Evil Ex! The band came together especially for the Freakscene birthday party, 3 of the bands have previously played Freakscene Lives. So Assassins know what they are about and will complete their mission to to bash out an explosive set that will rock Freakscene!
Ronan McGrath and Conor MacSweeny bring the hard electronic rock sound of Echogram to the mix while Cormac O'Regan and Jenny Judge add the unique sonic textures of Alterosa. Cian MacSweeny (Carbon Copy) will drive out vocals and guitars through this eclectic mix of musicians and styles.
Assassins are coming!
The third instalment of this new night of Northern Soul will be held in Cyprus Avenue this Saturday night.
From the promoters:
A Northern Soul Night 3 is our third in a string of nights being held in Cork. Previously at The Imperial Hotel, then the Victoria, we now move to a great dance venue – Cyprus Avenue. Doors are at 11pm and open late night to 2am. Check out our site www.thenorthernnights.com for downloads and track info on artists of the day.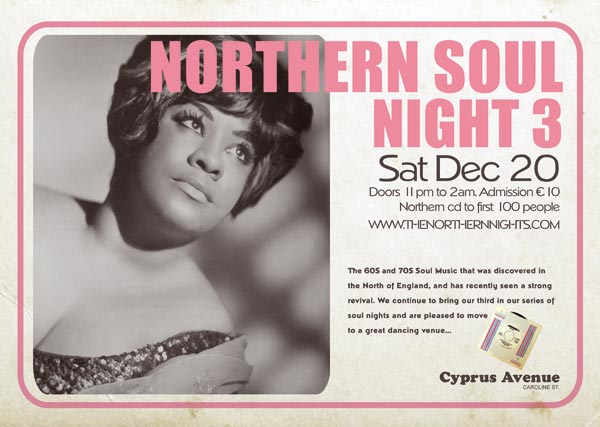 Soul as deep as you like…And then some. A scene that was originally open to the very few people has grown and grown. Sneered at by Londoners who thought they were in the know, but were actually, very much out of tune with regards what was happening in soul music during the late 60s early 70s in England.
When the Motown empire was still growing, soul acts from the states would tour the Uk. Bringing with them not only a distinctive sound, but dance moves and fashion that the crowd would pick up on. From then on, the dance floor would be full of foot slides, spins and back-drops. Possibly the beginning of breakdance.
Clubs such as the King Mojo or the Twisted Wheel would house hundreds of dancers, with several rooms with a couple of different resident Djs. These clubs could also hold live performances and the soul fans would be treated to a stage performance from some of the big names like JJ Barnes, Edwin Starr, Brenda & the Tabulations or even the Dramatics appeared live at the Torch Manchester. Now that was clubbing.
So the Jazz is finished for another year, there's no more bank holidays between now and Christmas and it's gonna be a long, dark winter. If you thought a lull follows the jazz, then check out what's on over this weekend…
Thursday sees the first night of a new series of weekly gigs at the Pavilion, under the Bootleg banner, when the local talents of Sideproject, Get Up Get Down and Cian will take to the stage. On the same night, Californian folk-rockers Port O'Brien pay a visit to Cyprus Avenue. Marcel Woods plays the Savoy on Friday night, while Mercury Rev's show at Cyprus Avenue has been sold out for weeks. If it's comedy you're after, then check out Scottish comedian Geoff Boyz at City Limits Comedy Club on Friday and Saturday nights, or for house heads, legendary club night Fish Go Deep celebrates its 20th birthday at the Pavilion on Saturday and Sunday.
And if all that wasn't enough, there's plenty of special gigs and fancy dress events celebrating Halloween this weekend.
Dublin 5-piece BATS come to Cork to headline the Quad's Fancy Dress Halloween Extravaganza with support from the furiously loud and crazy I'll Eat Your Face and fun loving rockers Beard Seeking Missile. Or you can sample the blood punch at Fredz, where for one night only, members of local band Futureboy and a couple of friends will dress as girls and perform as Northgate Nineball and the Backstage Betties. But the madness doesn't end there. In an effort to raise money for Irish Dogs for Disabled, the bedraggled betties have agreed to be auctioned off for the charity. In addition, bringing militant feel to the evening will be Co. Clare's General PM and a debut for Cork's sexiest band, Death by Cockrockers promises to make this Hallowe'en a night to remember.
October 30th at The Crane Lane Theatre hosts The Zombie Ball, presented by Gypsy Hotel.
Doors at 9pm, Fancy Dress essential, Zombies Preferred! Adm: €10
Featuring Spellbound (Dublin) and Hallowe'en Burlesque with Missy Malone (Edinburgh) as The Bride Of Frankenstein and Leyla Rose (London) as the buxom Wolf Girl. Spooky sounds by Oona White.
See http://www.myspace.com/bob_jesus for more details


The Freakscene Halloween Ball, famous for its amazing costumes, will take place in the Qube and G2 nightclubs on Friday 31st October.
Venue I – The Catacomb
Dr Faddenstein & Emgor will be playing Doom Indie, New Grave, Goth Rock and Monstrous Rock.
Venue II – The Dungeon G2
The Wicked Witches of The East will be taunting with Scary Funk, Despairing Soul & Death Disco!!
Tickets go on sale from An Bróg, Wednesday 15th October 2008.
A screening of The Rocky Horror Picture Show will commence at 9.00p.m. sharp (doors at 8.45p.m., seating will be limited but there is no extra charge or anything ridiculous like that, so do get along early and bring your own rice etc!)
For more information and to see photos of what you can expect to see, go to www.freakscene.com/halloween2008/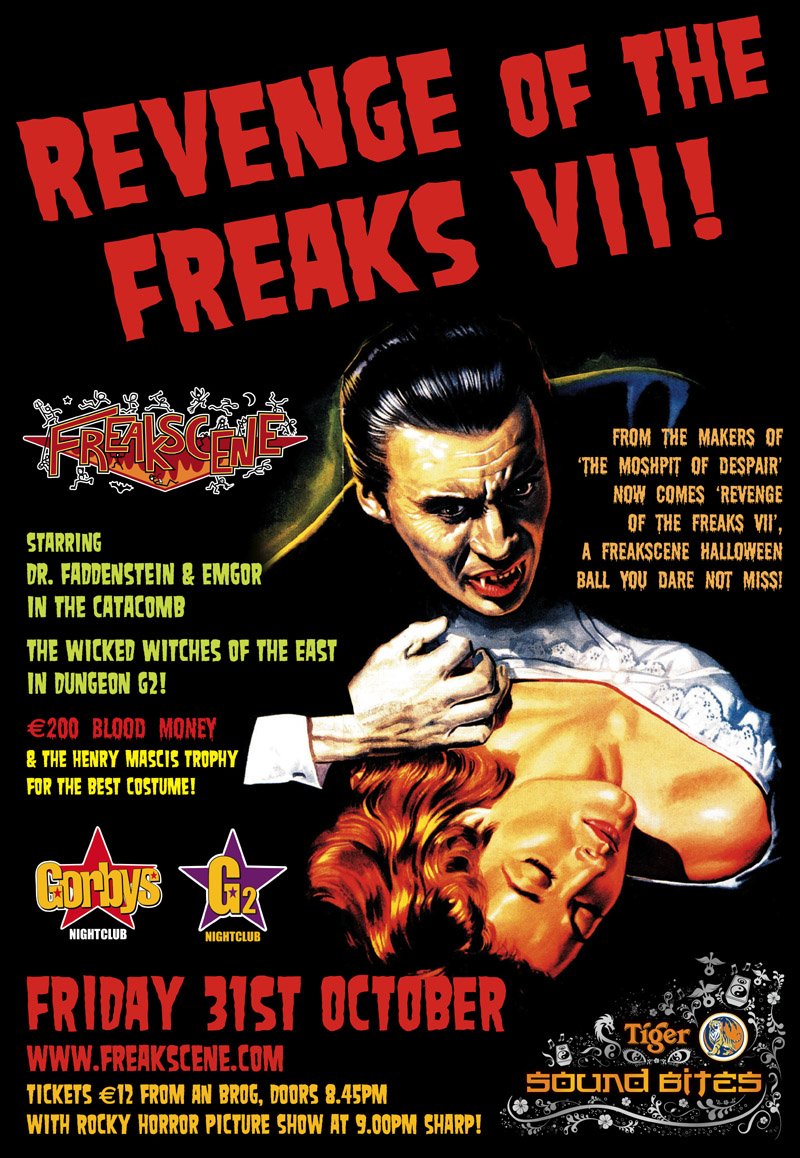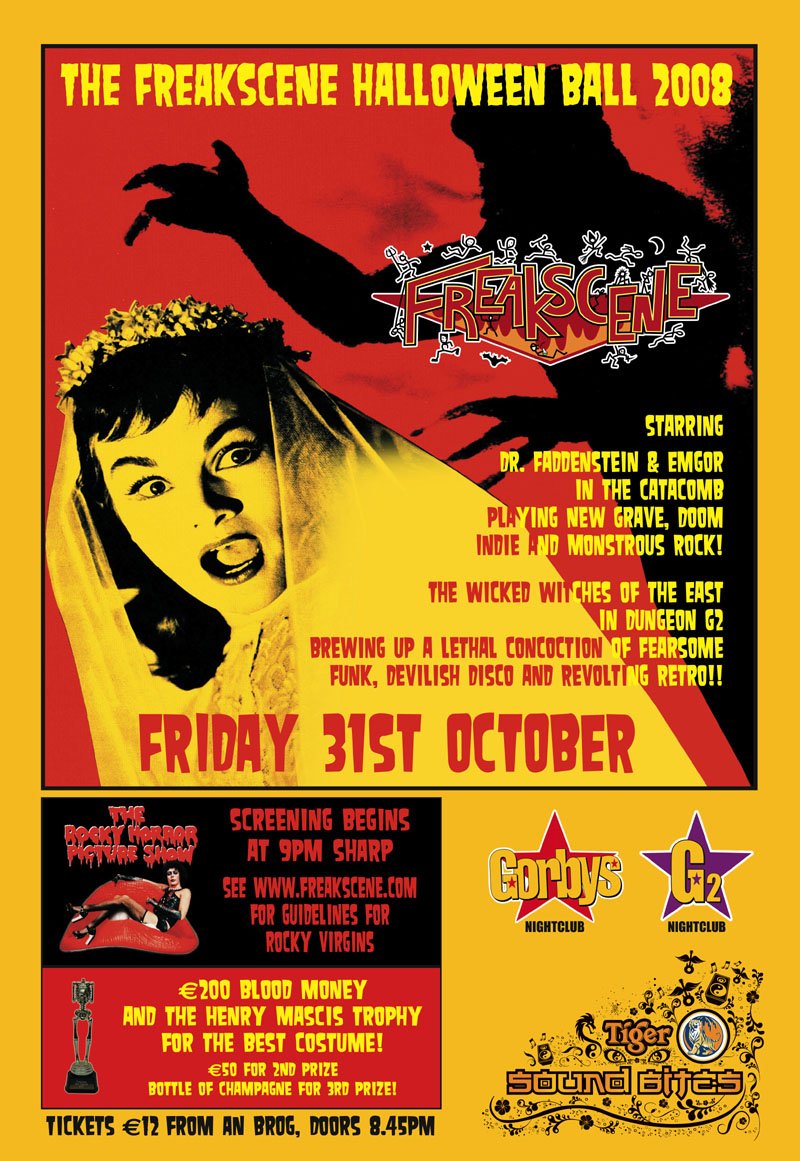 Local metal band 5 Will Die take over An Crúiscín Lán on Halloween night to officially launch their album 'Slung From A Tree.' Supporting on the night will be Days Of Night, Mordant Soul, Brigantia and Ghost of Medina. The bands will kick off around 8pm, playing until midnight and will be followed by a Halloween party. It'll cost you just €6 to see all these bands, or if you turn up just for the party there is no cover charge once the bands have finished.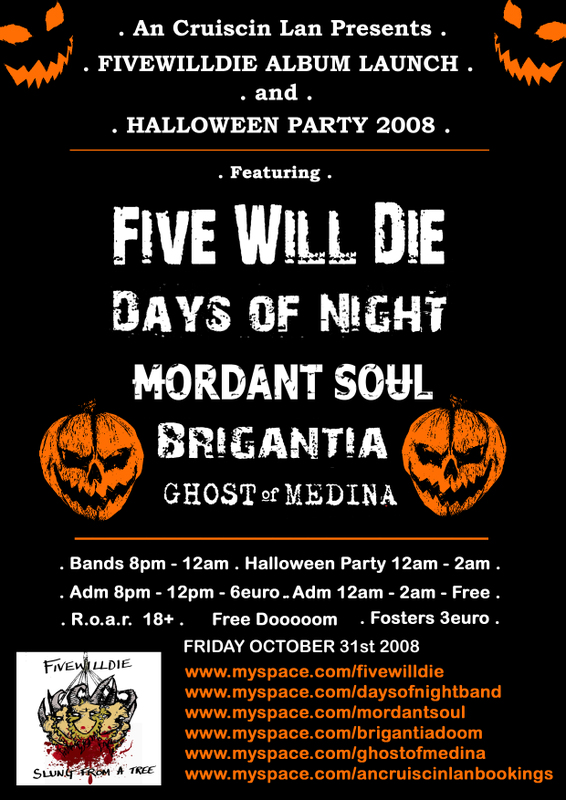 **Update**
New venue for Northern Nights – Cyprus Avenue
Check out the most recent post on this subject here.
Following from the success of the Northern Soul night held in the Imperial Hotel a month ago, a second night is planned for the Victoria Hotel (Patrick St / Winthrop St) on Saturday, October 11th.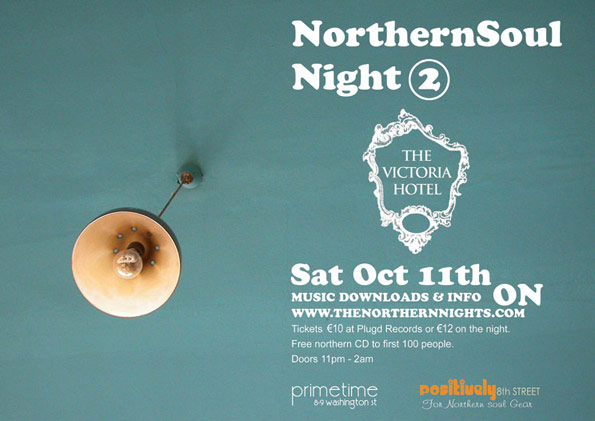 Tickets are available for €10 at Plugd records, Washington st, or on the door on the night for €12.
For more information, and to listen to tracks (updated regularly), check out
www.thenorthernnights.com.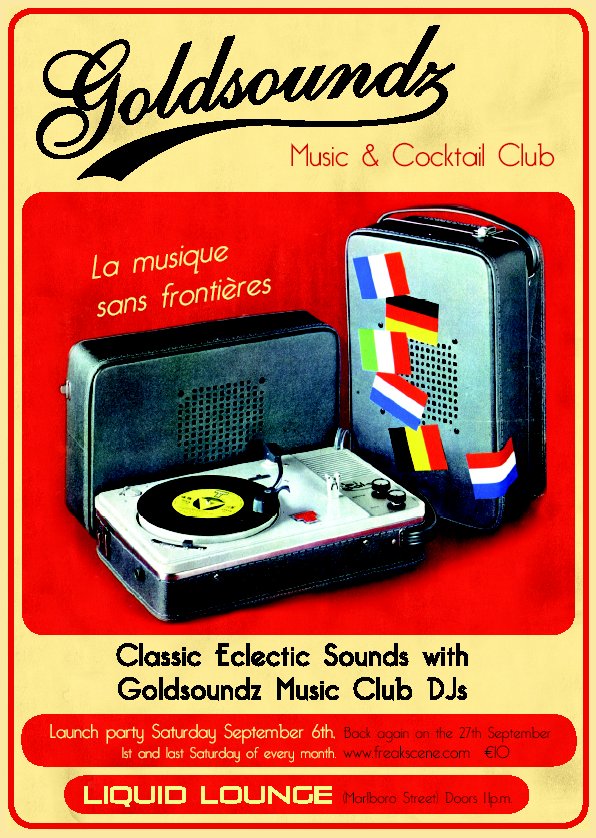 Goldsoundz returns to the Cork clubbing scene once again but with greater fanfare, self assurance and even more grandiose claims than ever before! Goldsoundz Music and Cocktail Club promises style, decadence, eclectic tasteful music and cocktail waitresses providing table service in the luxurious setting of the Liquid Lounge on a Saturday night!

Goldsoundz is named after a Pavement song, but its latest incarnation also draws on the Tom Waits' song '(Looking for) The Heart Of A Saturday Night', and promises something special to all those who 'are tryin' to wipe out ev'ry trace [of] all the other days' . The music will be a mixture of alternative modern classics, with some sixties music, jazz and funk all selected to compliment the jazzey loungey ambience of the liquid lounge.

Patrons are encouraged to 'be reachin' their peak' (another lyric from said Tom Waits song) and dress stylishly and/or in retro style. Recommendations for style ideas include 50s-60s lounge/surfer style or how you might dress going to an old Jazz Club….retro suits or cocktail dresses would be brilliant!

Goldsoundz's famous cocktail menu features a selection drinks all named after classic songs, anyone for a 'Blue Monday', 'Rock The Casbah' or a 'Sexy Boy'? ….but do beware the cocktail named 'Girlfriend In A Coma'!!

Complimentary food will be served at the launch party on Saturday September 6th in the Liquid Lounge!!
Sláinte (formerly known as The Vineyard)
Market Lane, Patrick Street, Cork — [map location]
021 4274793
No pictures or reviews of this place yet, but we'll update here when we have something. Meanwhile, here's their events schedule…
Paddys Weekend line up
Fri 16th Carnevale featuring The Sunbeams with BBQ. doors 8pm Admission FREE
Sat 17th Paddys day All day session with the Ceili All Stars , BBQ, Face painting and many more..
3pm onwards all welcome
Sunday 18th Trad with Ceili all Stars and BBQ from 4pm and 8pm Jam Sesssion with an array of Cork's finest Musicians.
Friday 23rd of March Rock Hard
cork's finest rock cover band. doors 9pm. Free Admission
Easter sunday the 8th of april
the Roaring forties
Cork's own Swing band
www.theroaringforties.com
Every Tuesday TEXAS HOLD'EM POKER NIGHT@9pm
If your not in you can't win. For more details call into Slainte,
Every Wednesday @ 9pm .Ceili All Stars and Friends Open Trad Session
"Trad is not what it used to be…."
Funky Friday Every week with the Funkiest of Local djs spinning the Freakiest of tunes from Rock, Punk, Indie Jazz, Hip Hop, Electro, soul, disco and many more
" We got the Funk !…" " Get your Freak on"
Saturday "Sensual Saturday " Electronic Beats with masters of the decks.
1st Saturday of every month Moonlight at the Attic room @ slainte provides musical Fusion & Electronic sounds til late. Word of Mouth Food served @ 8pm. Tickets €10 from Plugd Records.
Every Sunday BBQ and Lounge music @ 6pm with an array of local musicians from Cork.
Check out Slainte for a bit of Craic agus Ceoil! Purveyors of Wines , Beers, Spirits , Ales & Especially Tall Tales!
A Feast not to be missed!
Admission free for all gigs except Moonlight.
Club Tikki – kicks off December 5th
Tikki Lounge, Little Hanover St. Click here to see it on a map
Every Tuesday — Late License — doors 11pm till 1.30
×'ƒ5 / ×'ƒ4 with convincing sob story
(buy your wrist bands/tkts in The Tikki Lounge, that then gives you access to the bigger room next door)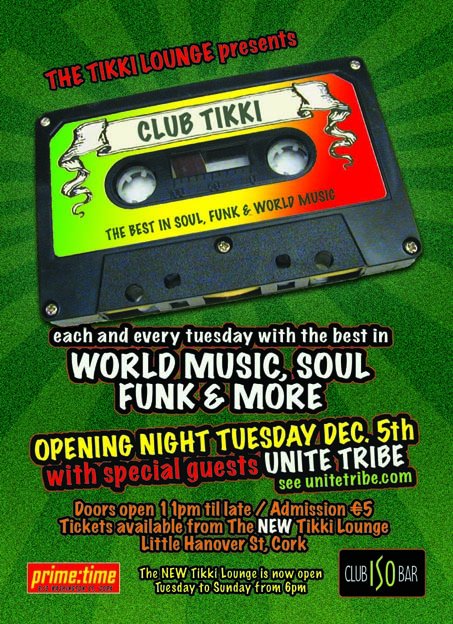 Tuesday Dec 5th
Unite Tribe
www.unitetribe.com
The bands influences range from pink floyd to dj shadow but "the tribe" classify themselves as "new wave world music". Their unique sound and has caught the ear of music lovers and their live performances have impressed audiences all over Ireland. They have just finished recording their debut album "enlokari" which is due for release Feb '07. The album has 11 tracks, and was recorded in Rush, Co.Dublin. It was produced by Wayne Sheehy and engineered by Andy Knightly.
Tuesday Dec 12th
Phil Bergin
www.FeileAfrica.com
'An in toxicating mix of exotic rhythms, rhymes & beats from the tropics. African, Carribean, Latino, Arabic, Asian Roots, Funk, Jazz, New Beat, and everything else you can think of that comes under World Music'
Tuesday Dec 19th
Stevie G (RedFM)
www.redfm.ie/blackonred
steviegblog.blogspot.com
Stevie G is one of the most prominent figures in Ireland when it comes to hip-hop and soul. He has been DJing in Cork since the early 90's in legendary clubnights such as Sweat in Sir Henrys, Mor Disco, Free La Funk, Yo Latino and also Rapture, & Jam.
………………………….
Tuesday 26th is not available for Club Tikki, but every tuesday after that with these notorious personalities plus guests
looking for bands to play, contact Kate in The Tikki Lounge – thetikkilounge@gmail.com
The Tikki Lounge
Promotions
www.myspace.com/thetikkilounge
thetikkilounge@gmail.com
thetikkilounge.bebo.comlist nudity in female movieslesbian movies april littlemonstercock moviepedal pumping moviesmovies rape pervertedporn mpegs movieporn stars list movieporn preteen moviesmovie parts privatesex movies quicktimemovie shemale samplessmall cock moviessneak tickets movie previewmovies spanked whoremovies spanking in scenesstrip tease moviesmovie swimming elephantcream pie teen movies Map
The Everyman Palace Theatre will host a new weekly club night beginning April 22nd. Mvm, or Movies vs Music will feature a classic movie, with live bands and DJs.
From the website: www.everymanpalace.com/latenight.html
MvM – Saturday nights

The Everyman Palace presents MvM (Music V's Movies), Saturday night at the Movies with a twist! Be part of this explosive night and be blown away with our unique blend of live music, DJ's and Cult Movie titles.

Saturday, April 22 sees the launch of MvM with Kill Bill.

Tickets €10 available on the door, on the night.
Doors 11.30pm