Archive for the 'culture' Category
Analysis: an exhibition about Cork's Sir Henry's was an opportunity to show its historical, geographical, cultural and social importance
CORK, Ireland — Who knew the Irish were so into jazz?
According to program director Jack McGouran of the Guinness Cork Jazz Festival: "They're here for the craic."
EVER go on a four-day, 'round-the-world' musical bender, and hear instruments you never knew existed, voices to die for and stories that live long in the memory?
To mark tomorrow's 20th anniversary of Kurt Cobain's death, Des O'Driscoll looks back on the day in 1991 when the late singer's band played a support slot at Sir Henry's in Cork.
A handy stocking filler for the music fan in your life…
The Lobby Bar on No 1 Union Quay was an iconic live music venue in Cork City, which closed its doors in 2005. This book tells the story of the music and people who passed through the Lobby Bar during its seventeen year existence. At one time there were four public houses neighbouring the Lobby, with music becoming a key element linking each venue by the 1990s.

The Lobby Bar – Music Through the Windows of Union Quay, Cork also delves back into the history of the musicians and venues that shaped the musical landscape of Cork. It is a book that celebrates, in words and pictures, the many magic nights of music in the Lobby Bar.
More info at http://www.facebook.com/lobbybarbook

The Lobby Book is available from:
Easons and Waterstones on Patrick St,
The Pavilion bar on Carey's Lane,
Liam Russells on Oliver Plunkett St,
Porters in Wilton and Douglas Court,
Carrigaline Bookshop,
Philip's Bookstore, Mallow Town,
+ plugd in the Triskel Centre
From December 2011 The Lobby Bar book is available to buy on www.ebay.ie
Press Release:
Cork Opera House Proudly Presents
THE REICH EFFECT
A Five Day Festival Marking the 75th Year of
Pulitzer Prize Winning Composer, Steve Reich
Wednesday 27 – Sunday 31 July 2011
FESTIVAL HOT TICKET ALERT
Cork Opera House is proud to present The Reich Effect a five day festival marking the 75th year of the Pulitzer Prize winning composer, Steve Reich. A multitude of performances including the Irish premiere of WTC 9/11 by the Kronos Quartet will take place in Cork Opera House and other Cork City venues from Wednesday 27 through Sunday 31 July. In order to celebrate this seminal event we are offering an exclusive FESTIVAL TICKET for a limited timeframe only. The FESTIVAL TICKET is a special package of 5 for €100 (any 5 festival events of your choice). Book now to avoid disappointment by calling Cork Opera House Box Office on 021-4270022.
The New York Times calls Steve Reich "our greatest living composer" and "among the great composers of the century", while The New Yorker hails him as "the most original musical thinker of our time". From his early taped speech pieces to his digital video opera, the American's path has embraced not only aspects of Western Classical music, but the structures, harmonies, and rhythms of non-Western and American vernacular music, particularly jazz.
The Reich Effect will begin with a screening of the film Steve Reich – Phase to Face followed by a public interview with Reich conducted by John Kelly on 27 July in Cork Opera House. Other highlights include the Kronos Quartet (28 July, Cork Opera House), RTÉ Concert Orchestra performing works by Jonny Greenwood (Radiohead) and Kjartan Sveinsson (Sigur Ros) (29 July, City Hall), London Sinfonietta (30 July, Cork Opera House), Efterklang with Daniel Bjarnason and the Messing Orchestra (30 July, Savoy Theatre), Johann Johannsson (31 July, Triskel Christchurch) and Crash Ensemble with Iarla Ó Lionáird and Gavin Friday (31 July, Cork Opera House).
Crash Ensemble will perform Double Sextet for which Steve Reich was awarded the Pulitzer Prize for Music in 2009.
Local, national and international artists will come together to produce three special programmes of Reich's music: Counterpoint, Drumming and Phases. These will include two unique dance commissions. David Bolger will dance to Kate Ellis's Cello Counterpoint and Nic Gaireiss will dance Clapping Music. Both events take place in the Firkin Crane.
The Reich Effect is curated by Mary Hickson, Cork Opera House Chief Executive Officer, and the prize-winning cellist, chamber musician, and musician-in-residence in Cork Opera House, Kate Ellis.
Upon announcing The Reich Effect, Hickson said:
"It is such an honour to present musicians and composers of this calibre in Cork City. It is a wonderful opportunity for Cork to celebrate local talent also. I have always been hugely 'effected' by Reich myself since my time studying Music at UCC and it is a real privilege to invite him to Cork. Kate Ellis and I had great fun and deliberation selecting the programme for the festival and we look forward to your reaction and enjoyment over the few days in Cork!"
Budding electronic artists are invited to apply to the Reich Remix Competition. The finalists will be judged and selected by Steve Reich himself, having been shortlisted by a panel of high profile judges including Jim Carroll and Donal Dineen. Reich will also lead a Composition Seminar (places strictly by application).
Other events in Cork Opera House, City Hall, Firkin Crane, Pavilion and Savoy Theatre are currently on sale through Cork Opera House. More events in a variety of venues and outdoor sites will be announced.
The following Reich Event performances are currently on sale:
Wed 27 July, 8pm, Cork Opera House
STEVE REICH – PHASE TO FACE SCREENING
A film by Eric Darmon & Frank Mallet
Followed by Steve Reich public interview with John Kelly
Tickets €20*
Thu 28 July, 6pm, Firkin Crane
COUNTERPOINT
Carolyn Goodwin/Fiona Kelly/Niwel Tsumbu/Kate Ellis
Dance commission: David Bolger (CoisCéim)
REICH: New York Counterpoint
Vermont Counterpoint
Electric Counterpoint
Cello Counterpoint
Tickets €20*
Thu 28 July, 8pm, Cork Opera House
KRONOS QUARTET
REICH: Triple Quartet
The Cave (excerpts)
WTC 9/11 (Irish Premiere)
Different Trains
Tickets €38.50*
Thu 28 July, 10pm, Half Moon Theatre
KALEIDOSCOPE FOLLOWED BY DONAL DINEEN
Cliodhna Ryan and Kate Ellis will curate a special programme focusing on the music that influenced Reich himself.
Tickets €20*
Fri 29 July, 6pm, Cork Opera House
DRUMMING
O'Duo/ Stephen Kelly/ Alex Petcu Colan
Dance Commission: Nic Gareiss
GLASS: Mad Rush
REICH: Music for Pieces of Wood
Drumming Part 1
Six Marimbas
Tickets: €20*
Fri 29 July, 8pm, City Hall
RTE Cork Proms
RTÉ Concert Orchestra
Greenwood (Radiohead): Doghouse
Sveinsson (Sigur Ros): Credo
Tickets €30*
Fri 29 July, 10pm, Pavilion, Carey's Lane
REICH REMIX CLUB
Tickets €10*
Sat 30 July, 6pm, Firkin Crane
PHASES
Ciara Moroney/Michael Joyce/Elizabeth Cooney
Dance Commission: Nic Gareiss
REICH: Come out
Piano Phase
Clapping Music
Violin Phase
Tickets €20*
Sat 30 July, 8pm, Cork Opera House
LONDON SINFONIETTA AND SYNERGY VOCALS
REICH: Music for 18 Musicians
Tickets €38.50*
Sat 30 July, 10pm, Savoy Theatre
EFTERKLANG WITH DANÍEL BJARNASON AND THE MESSING ORCHESTRA
Tickets €25*
Sun 31 July, 6pm, Triskel Christchurch
JOHANN JOHANNSSON ENSEMBLE
Tickets €20* (also available from Triskel)
Sun 31 July, 8pm, Cork Opera House
CRASH ENSEMBLE
REICH: 2 x 5
DENNEHY: Grá agus Bás (featuring Iarla Ó Lionáird)
RZEWSKI: Coming Together (featuring Gavin Friday)
REICH: Double Sextet
Tickets €25*
REICH REMIX COMPETITION
Competition winners will be invited to perform at the Remix Club in the Pavilion on Friday 29th July. For application information please email reich@corkoperahouse.ie . Closing date for submissions is 17 June.
REICH COMPOSITION SEMINAR
Composers are invited to learn directly from the master himself. Places are limited and registration is essential. For an application please email reich@corkoperahouse.ie > .
This Saturday, 18th June at Bradley's on Barrack Street, there will take place a tribute to American songwriter Daniel Johnston. At 7.30, 'Cine-Ceoil' presents the documentary film, The Devil and Daniel Johnston (110 mins).
This will be followed by performances from:
The Severed Headmaster (Thinguma*jigSaw, Norway)
Alpine Those Myriads (Norway)
Rory Francis O' Brien
Mark Fitzgerald
Andy Wilson
With Richard Delaney filling in the gaps with his favourite recordings.
There is no cover charge.
Cork Opera House is inviting submissions from budding electronic artists for the experimental Reich Remix Competition.
If you are a musician, DJ, music producer, remixer or Reich aficionado and want to create your own original Reich Effect, then this is for you. The finalists will be judged and selected by none other than Steve Reich, having been shortlisted by a panel of high profile judges including Jim Carroll, Gavin Friday, Stevie G, Nialler09 and Dónal Dineen.
Application packs are available for download here:
http://www.corkoperahouse.ie/sites/default/files/Reich%20Remix%20Competition_1.pdf

Submissions must be received by 5pm Friday 17th June
Further information on the Reich Effect festival from the Opera House website.
"In my generation we tore the wall down, if Brian Eno or David Bowie come to me, and if popular musicians remix my music like The Orb or DJ Spooky it is a good thing".
— Steve Reich
In 1991, The Orb's "Fluffy Little Clouds" gave a major pop nod to Steve Reich, whose composition "Electric Counterpoint" served as the foundation for the band's breakthrough hit. Reich's entire output — from early tape collages and pioneering work to his later, larger and more intricate works, including collaborations with visual artists — has served as both template and inspiration for a growing legion of electronic musicians and DJs. The ideas that Steve Reich has been mining for the past three decades have inspired not only the sensibilities of today's youth culture, but also the technological developments that have shaped them.
"From the phase-shifting tape loop pieces of the early to mid-60s, to the later, more 'composed' works with their gradually developing cellular rhythmic and melodic structures, an approach which reached its apogee in the late 70s, Reich's music can be heard echoing across the Electronica spectrum, from the most hardcore German Techno to Aphex Twin, D*Note, Alec Empire, Tortoise, Panasonic…"
—The Wire
Arthouse, international and independent cinema finds a new outlet in Cork as the new Christchurch addition to the Triskel Arts Centre will host several screenings per week.
Triskel has had a long association with film over its 33 year history and in recent years we have seen our role as one of support to the main festivals. However, since the closure of the much missed Kino we once again recognise the need to provide Cork with a venue for regular screening of alternative cinema.

The IFI @Triskel Christchurch will present 8 titles per month running up to 4 nights per week with Sunday & Wednesday matinees. We hope you will accompany us on our latest foray into the world of Cinema in the magnificently re-furbished Christchurch which we have augmented with the most advanced digital screening technology.
Further information and listings at the Triskel website: www.triskelart.com/cinema.htm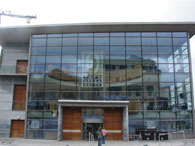 It was recently announced that Cork Opera House is to close for three months starting next week in a bid to cut costs.
We'd like to pass on a message from the Cork-based Cyclone Repertory about a gathering in front of the Opera House tomorrow afternoon:
It has been put forth that when it re-opens that it is going to become a purely commercial venue booking mainstream shows and forgoing the support and development of local talent altogether.

On Friday July 2nd in front of the Opera House at 4pm there will be a gathering together of those whose vocation is to create, entertain and perform in celebration of what the Opera House has and should continue to mean to Cork. This spectacle will include a variety of performances that will prove to be a stimulating and pleasant way to spend a summer's afternoon while raising awareness of what is taking place at this important Cork venue.
Please support this initiative.