Archive for the 'Irish Music' Category
Analysis: an exhibition about Cork's Sir Henry's was an opportunity to show its historical, geographical, cultural and social importance
CORK, Ireland — Who knew the Irish were so into jazz?
According to program director Jack McGouran of the Guinness Cork Jazz Festival: "They're here for the craic."
EVER go on a four-day, 'round-the-world' musical bender, and hear instruments you never knew existed, voices to die for and stories that live long in the memory?
We Are Scientists, Cymbals, Walking on Cars, Foy Vance, New Sunset Hotel, Ryan Sheridan — among the additions to the lineup for Indiependence 2013 announced today.
Press release follows:
Joining a host of great international and Irish artists such as Bastille, De La Soul and Kodaline, INDIEPENDENCE is delighted to announce a further bunch of top class acts for this year's festival. US Indie rockers, We Are Scientists pave the way along with UK indie disco act, Cymbals.

The Irish contingent has also strengthened considerably with the addition of Ryan Sheridan, Foy Vance, New Sunset Hotel, Trucker Diablo and a welcome return to last year's Red Bull Bedroom Jam winners, Walking on Cars. More acts are scheduled to be announced right into July, along with the full Bacardi Oakheart line-up and also several Breaking Tunes newcomers.

A first for Indie and a welcome addition to the apocalyptic Darkness arena, the Spoken Word Stage will feature the cream of the crop in spoken word and punk poetry. Headlined by Dundalk troubadour & quintessential Irish punk poet, Jinx Lennon, Indie 13 will also welcome Nagasaki Suntans and some of the leading players in cutting edge performance poetry including slam poet champions; Colm Keegan, Stephen James Smith, Fergus Costello and Abby Oliveira, as well as Cork's very own punk poet & compere, Wasps vs Humans.

INDIEPENDENCE is also delighted to announce that this year's associated charity will be the Cork Simon Community – Indie13 will make a donation to their very worthy cause. In 2012, one in every four people staying in Cork Simon's Emergency Shelter was under 26 years of age.The number of young women using Cork Simon's emergency support services has doubled over the last four years. More and more younger people are staying in Cork Simon's high-support houses providing round-the-clock care for people with multiple health and related needs.

INDIEPENDENCE Music & Arts Festival 2013 tickets are on sale now priced at €79 for three days non-camping and €99 for three days with camping. Tickets are available from www.tickets.ie and usual outlets.
This week saw the annual IMRO live music venue of the year awards ceremony take place at IMRO headquarters in Dublin. Cork had a strong showing with the Opera House and Cyprus Avenue picking up awards. Both venues have played a part in bringing quality acts to the city over the past year, despite what has been perceived as a recent stagnation in international touring acts visiting these parts.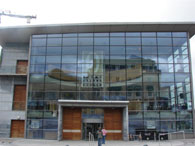 Coming out on top was the Cork Opera House with the IMRO National Live Music Venue of the Year award, voted by the public. The past year has seen a marked improvement in the range and quality of acts performing at the Opera House, some of the highlights including: Ryan Adams, Talvin Singh, The Blind Boys of Alabama and Bonnie 'Prince' Billy, as well as Irish acts Fred, Niwel Tsumbu, Jack L and James Vincent McMorrow.
Filling up the calendar too were a range of quality comedy acts, as well as perpetual OH favourites like Daniel O'Donnell, various showband nostalgia nights, even Crystal Swing and a string of sold-out Jedward shows, but tickets will be sold and bills must be paid! Special mention must be given for stand-out events such as the series of shows for The Reich Effect (celebrating Steve Reich's 75th birthday), The Knife's Darwin electro-opera 'Tomorrow, in a Year', Icebreaker & BJ Cole performing Brian Eno's Apollo, and the UCC Gamelan Ensemble (who are returning in April).

Upcoming highlights at the Cork Opera House include Professor Green, The Magnetic Fields and Transcendentalists (Jóhann Jóhannsson, Hauschka and Dustin O'Halloran), with some impressive local & Irish acts lined up in the form of Mick Flannery, Kormac's Big Band with the West Cork Ukelele Orchestra, and Cork Rocks The House.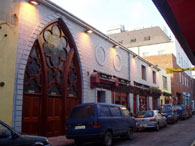 Meanwhile, Cyprus Avenue have been awarded Best Live Music Venue in Munster for the second time, having won the inaugural award in 2008. Last year saw some epic, loud gigs like Swans, Earth and Therapy, and brought back classic Irish acts Whipping Boy and Cry Before Dawn. International touring highlights (for this author at least) included And You Will Know Us By The Trail Of Dead, Austra, John Grant and The Antlers.
More information:
IMRO Live Music Venue of the Year Awards 2012
www.corkoperahouse.ie
www.cyprusavenue.ie
A handy stocking filler for the music fan in your life…
The Lobby Bar on No 1 Union Quay was an iconic live music venue in Cork City, which closed its doors in 2005. This book tells the story of the music and people who passed through the Lobby Bar during its seventeen year existence. At one time there were four public houses neighbouring the Lobby, with music becoming a key element linking each venue by the 1990s.

The Lobby Bar – Music Through the Windows of Union Quay, Cork also delves back into the history of the musicians and venues that shaped the musical landscape of Cork. It is a book that celebrates, in words and pictures, the many magic nights of music in the Lobby Bar.
More info at http://www.facebook.com/lobbybarbook

The Lobby Book is available from:
Easons and Waterstones on Patrick St,
The Pavilion bar on Carey's Lane,
Liam Russells on Oliver Plunkett St,
Porters in Wilton and Douglas Court,
Carrigaline Bookshop,
Philip's Bookstore, Mallow Town,
+ plugd in the Triskel Centre
From December 2011 The Lobby Bar book is available to buy on www.ebay.ie

It's back. After the success of last year's Cork Rock City compilation, including appearances on the Irish Independent, AU Magazine, 96FM and all over the Irish music blogosphere, Cork Rock City returns with Vol.2.
Preview 7 tracks from the compilations here:

Cork Rock City Vol.2 endeavours to document and showcase definitively the unprecedented level of activity in Cork music, from established hands like Hope is Noise, and [r]evolution of a Sun, to feral new prospects like Slugbait, Fat Actress, Former Monarchs and Agitate the Gravel, from the chaotic "supergrind" of full-time chancers I'll Eat Your Face to the lunatic fringe of drone, improv and electronica that fosters the brilliant likes of Narwhals, Ellll, and Takeshi and the Kid, and everything inbetween. This city's breadth and depth of native (and adoptive) musical talent will be explored and showcased like it deserves, and will prove, once again, that this town can easily beat anywhere else in the world, never mind Ireland, to the best tunes.
Cork Rock City Vol.2 releases on Tuesday November 1st at 10am from Drop-d.ie's brand new Bandcamp page as a completely free download as a full album, or as pick 'n' mix single downloads, with a number of extras including video, a guide to Cork music and festivals, and the return of a popular feature of last year's comp, interchangeable covers, including designs from Cork graphic design heads like Execute and Ricky Sweeney.
The official launch gig will take place at the Crane Lane Theatre, Phoenix Street on Friday night November 4th at 9pm, with Former Monarchs, Slugbait and more to be confirmed and Crane Lane DJs 'til the wee hours.
Drop-d: Cork Rock City Vol. 2
Get it here: http://drop-d.bandcamp.com/album/drop-d-cork-rock-city-vol-2
Kerry band Ten Past Seven have some new tracks to lay down and are looking for help from their fans and the general public to fund the recording process. The finished product will be a non-profit release for Outonalimb Records, so the tracks will utlimately be available for free download. Contributors to the funding initiative, however, will receive digital copies of the EP in advance of the public release, and more generous contributions will be rewarded with physical copies of the new release, back catalogue and some "unique art pieces."
Full details and current progress can be found below this promo video…
fundit.ie page: http://www.fundit.ie/project/ten-past-seven-want-to-record-new-music
Indiependence is back for its 6th year and promises to be bigger and better than ever. The festival takes place over 3 days and nights, July 29th – 31st, at Deer Farm just outside Mitchelstown in north Cork, with highlight acts including Editors, Ash, Therapy?, Dan Le Sac vs Scroobius Pip, And So I Watch You From Afar, Whipping Boy and loads more.
The festival site is located a 15 minute walk from the town, while camping is available on site with the relevant ticket. Prices start at €59 for two days (without camping) up to €99 for three days with camping.
Full ticket details and booking links here:
www.indiependencefestival.com/?page_id=3
The Cork News spoke to the organisers about this year's festival and the planning involved:
www.thecorknews.ie/articles/indie-pendent-spirit
The complete festival line-up and further information can be found at the Indiependence website: www.indiependencefestival.com
Indiependence 2010 returns this August bank holiday weekend at Deer Park on the old Dublin road just outside Mitchelstown. The new location hosts on-site camping & parking facilities, and will feature 4 covered stages.
See the Indiependence website for the latest full lineup; meanwhile some highlights include: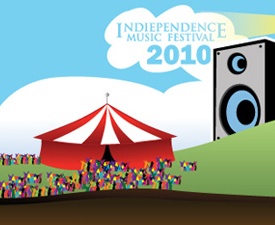 Bavaria Main Stage
Headliners include White Lies, Alabama 3, Reverend & The Makers and The Coronas
The Cyprus Avenue Arena
Delorentos, Jape & Duke Special
The Monster Mash
The stage will see a mix of rock, electro and DJ's from mid afternoon to early morning.
The Square
Live music, comedy, DJs, live electro, merchandise, vendors & chillout area.
"…a new addition for 2010, it is an arena within a village within a festival…
a 1,000 capacity tent where you will be able to see just a little bit of everything."
Tickets priced at €59 (or €79 including camping) are available online from Ticketgroup.
More info at www.indiependencefestival.com