Archive for the 'music' Category
Analysis: an exhibition about Cork's Sir Henry's was an opportunity to show its historical, geographical, cultural and social importance
EVER go on a four-day, 'round-the-world' musical bender, and hear instruments you never knew existed, voices to die for and stories that live long in the memory?
To mark tomorrow's 20th anniversary of Kurt Cobain's death, Des O'Driscoll looks back on the day in 1991 when the late singer's band played a support slot at Sir Henry's in Cork.
We Are Scientists, Cymbals, Walking on Cars, Foy Vance, New Sunset Hotel, Ryan Sheridan — among the additions to the lineup for Indiependence 2013 announced today.
Press release follows:
Joining a host of great international and Irish artists such as Bastille, De La Soul and Kodaline, INDIEPENDENCE is delighted to announce a further bunch of top class acts for this year's festival. US Indie rockers, We Are Scientists pave the way along with UK indie disco act, Cymbals.

The Irish contingent has also strengthened considerably with the addition of Ryan Sheridan, Foy Vance, New Sunset Hotel, Trucker Diablo and a welcome return to last year's Red Bull Bedroom Jam winners, Walking on Cars. More acts are scheduled to be announced right into July, along with the full Bacardi Oakheart line-up and also several Breaking Tunes newcomers.

A first for Indie and a welcome addition to the apocalyptic Darkness arena, the Spoken Word Stage will feature the cream of the crop in spoken word and punk poetry. Headlined by Dundalk troubadour & quintessential Irish punk poet, Jinx Lennon, Indie 13 will also welcome Nagasaki Suntans and some of the leading players in cutting edge performance poetry including slam poet champions; Colm Keegan, Stephen James Smith, Fergus Costello and Abby Oliveira, as well as Cork's very own punk poet & compere, Wasps vs Humans.

INDIEPENDENCE is also delighted to announce that this year's associated charity will be the Cork Simon Community – Indie13 will make a donation to their very worthy cause. In 2012, one in every four people staying in Cork Simon's Emergency Shelter was under 26 years of age.The number of young women using Cork Simon's emergency support services has doubled over the last four years. More and more younger people are staying in Cork Simon's high-support houses providing round-the-clock care for people with multiple health and related needs.

INDIEPENDENCE Music & Arts Festival 2013 tickets are on sale now priced at €79 for three days non-camping and €99 for three days with camping. Tickets are available from www.tickets.ie and usual outlets.
This week saw the annual IMRO live music venue of the year awards ceremony take place at IMRO headquarters in Dublin. Cork had a strong showing with the Opera House and Cyprus Avenue picking up awards. Both venues have played a part in bringing quality acts to the city over the past year, despite what has been perceived as a recent stagnation in international touring acts visiting these parts.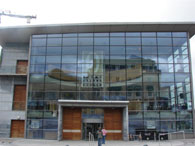 Coming out on top was the Cork Opera House with the IMRO National Live Music Venue of the Year award, voted by the public. The past year has seen a marked improvement in the range and quality of acts performing at the Opera House, some of the highlights including: Ryan Adams, Talvin Singh, The Blind Boys of Alabama and Bonnie 'Prince' Billy, as well as Irish acts Fred, Niwel Tsumbu, Jack L and James Vincent McMorrow.
Filling up the calendar too were a range of quality comedy acts, as well as perpetual OH favourites like Daniel O'Donnell, various showband nostalgia nights, even Crystal Swing and a string of sold-out Jedward shows, but tickets will be sold and bills must be paid! Special mention must be given for stand-out events such as the series of shows for The Reich Effect (celebrating Steve Reich's 75th birthday), The Knife's Darwin electro-opera 'Tomorrow, in a Year', Icebreaker & BJ Cole performing Brian Eno's Apollo, and the UCC Gamelan Ensemble (who are returning in April).

Upcoming highlights at the Cork Opera House include Professor Green, The Magnetic Fields and Transcendentalists (Jóhann Jóhannsson, Hauschka and Dustin O'Halloran), with some impressive local & Irish acts lined up in the form of Mick Flannery, Kormac's Big Band with the West Cork Ukelele Orchestra, and Cork Rocks The House.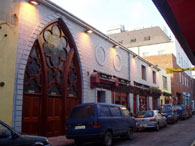 Meanwhile, Cyprus Avenue have been awarded Best Live Music Venue in Munster for the second time, having won the inaugural award in 2008. Last year saw some epic, loud gigs like Swans, Earth and Therapy, and brought back classic Irish acts Whipping Boy and Cry Before Dawn. International touring highlights (for this author at least) included And You Will Know Us By The Trail Of Dead, Austra, John Grant and The Antlers.
More information:
IMRO Live Music Venue of the Year Awards 2012
www.corkoperahouse.ie
www.cyprusavenue.ie
A handy stocking filler for the music fan in your life…
The Lobby Bar on No 1 Union Quay was an iconic live music venue in Cork City, which closed its doors in 2005. This book tells the story of the music and people who passed through the Lobby Bar during its seventeen year existence. At one time there were four public houses neighbouring the Lobby, with music becoming a key element linking each venue by the 1990s.

The Lobby Bar – Music Through the Windows of Union Quay, Cork also delves back into the history of the musicians and venues that shaped the musical landscape of Cork. It is a book that celebrates, in words and pictures, the many magic nights of music in the Lobby Bar.
More info at http://www.facebook.com/lobbybarbook

The Lobby Book is available from:
Easons and Waterstones on Patrick St,
The Pavilion bar on Carey's Lane,
Liam Russells on Oliver Plunkett St,
Porters in Wilton and Douglas Court,
Carrigaline Bookshop,
Philip's Bookstore, Mallow Town,
+ plugd in the Triskel Centre
From December 2011 The Lobby Bar book is available to buy on www.ebay.ie

It's back. After the success of last year's Cork Rock City compilation, including appearances on the Irish Independent, AU Magazine, 96FM and all over the Irish music blogosphere, Cork Rock City returns with Vol.2.
Preview 7 tracks from the compilations here:

Cork Rock City Vol.2 endeavours to document and showcase definitively the unprecedented level of activity in Cork music, from established hands like Hope is Noise, and [r]evolution of a Sun, to feral new prospects like Slugbait, Fat Actress, Former Monarchs and Agitate the Gravel, from the chaotic "supergrind" of full-time chancers I'll Eat Your Face to the lunatic fringe of drone, improv and electronica that fosters the brilliant likes of Narwhals, Ellll, and Takeshi and the Kid, and everything inbetween. This city's breadth and depth of native (and adoptive) musical talent will be explored and showcased like it deserves, and will prove, once again, that this town can easily beat anywhere else in the world, never mind Ireland, to the best tunes.
Cork Rock City Vol.2 releases on Tuesday November 1st at 10am from Drop-d.ie's brand new Bandcamp page as a completely free download as a full album, or as pick 'n' mix single downloads, with a number of extras including video, a guide to Cork music and festivals, and the return of a popular feature of last year's comp, interchangeable covers, including designs from Cork graphic design heads like Execute and Ricky Sweeney.
The official launch gig will take place at the Crane Lane Theatre, Phoenix Street on Friday night November 4th at 9pm, with Former Monarchs, Slugbait and more to be confirmed and Crane Lane DJs 'til the wee hours.
Drop-d: Cork Rock City Vol. 2
Get it here: http://drop-d.bandcamp.com/album/drop-d-cork-rock-city-vol-2
Press Release:
Hard Working Class Heroes – 2011
Ireland's Annual Showcase Festival and Conference for New Music
Thursday 6 / Friday 7 / Saturday 8 October – Dublin
The Button Factory, The Mercantile, The Grand Social, Shebeen Chic, Twisted Pepper and The Workman's Club
Hard Working Class Heroes returns to the streets of Dublin over the weekend of Thursday 6/ Friday 7 / Saturday 8 October for its 9th consecutive year.
Taking place in Dublin City Centre the festival is NOW calling on Ireland's musicians to apply for a slot to play at the event. Applications will be through FMC's own Breaking Tunes site (log on to www.hwch.net and click on the "BANDS APPLY HERE" button). Closing date for applications is July 16. The judging panel for applications will be made up of writers, A&R and music industry people from around the globe as well as international festival programmers.
Once again, Ireland's photographers are being called on to submit their finest music related shots for a chance to feature in a HWCH Photographers Exhibition. Photographers' applications will also be via www.hwch.net – simply click on the "PHOTOGRAPHERS APPLY HERE" button and follow the instructions.
Speaking of their ongoing relationship with HWCH Belinda Kelly, Trade Marketing Manager at Bulmers said 'Last year the partnership of HWCH and the Bulmers Berry Undergrowth Movement succeeded in its task to unearth hidden talents. Through HWCH 100 bands, plus the Bulmers Berry wild card 'Band 101' got the chance to showcase their music and get a head start in the industry. With the depth of talent that applied & were showcased, we are confident that 2011 will be no different and we can lead the way for more talented musicians and artists to be discovered and get the recognition they deserve. The ultimate goal for us is to continue discover new talent and ultimately see these bands achieve a long fruitful career in the music industry.'
Keeping up its high standard of additional events and activities there will be the HWCH conference, mentor sessions and band-tips section and more, with a host of international delegates on hand to share their wisdom and experience (thanks to the generous support of The Arts Council and Culture Ireland). As always, Hard Working Class Heroes promises a spectacular collection of music and fun for the whole weekend.
'HWCH And The City' proved an amazing success the last two years with bands taking over the city centre in coffee shops, book shops and many more places playing free gigs.
————————————————————–
The festival website (www.hwch.net ) will provide constant updates on the festival as it unfolds in the lead up to October 6/7/8.
Keep an eye on hwch.net for news on exciting new ways we will be involving you.
www.hwch.net
==================== ==================== ==================== ===
Tickets
Early bird tickets will be priced at €35 + booking fees compared with the full weekend festival price of €45. Grab them while you can! Offer lasts until July 16th.
Weekend Tickets €45.00 plus fees, Nightly Tickets €20 plus fees
==================== ==================== ==================== ===
Closing date for Artist and Photographer submissions is 16 July
==================== ==================== ==================== ===
Hard Working Class Heroes Festival
Thursday 6 / Friday 7 / Saturday 8 October 2011
www.hwch.net
Sunday 26th June
An Réalt Dearg, Barrack St.
4pm – close
Free Admission
Outdoor shenanigans and food dependent on weather. Indoor shenanigans and craic rain or shine.
Press Release:
Cork Opera House Proudly Presents
THE REICH EFFECT
A Five Day Festival Marking the 75th Year of
Pulitzer Prize Winning Composer, Steve Reich
Wednesday 27 – Sunday 31 July 2011
FESTIVAL HOT TICKET ALERT
Cork Opera House is proud to present The Reich Effect a five day festival marking the 75th year of the Pulitzer Prize winning composer, Steve Reich. A multitude of performances including the Irish premiere of WTC 9/11 by the Kronos Quartet will take place in Cork Opera House and other Cork City venues from Wednesday 27 through Sunday 31 July. In order to celebrate this seminal event we are offering an exclusive FESTIVAL TICKET for a limited timeframe only. The FESTIVAL TICKET is a special package of 5 for €100 (any 5 festival events of your choice). Book now to avoid disappointment by calling Cork Opera House Box Office on 021-4270022.
The New York Times calls Steve Reich "our greatest living composer" and "among the great composers of the century", while The New Yorker hails him as "the most original musical thinker of our time". From his early taped speech pieces to his digital video opera, the American's path has embraced not only aspects of Western Classical music, but the structures, harmonies, and rhythms of non-Western and American vernacular music, particularly jazz.
The Reich Effect will begin with a screening of the film Steve Reich – Phase to Face followed by a public interview with Reich conducted by John Kelly on 27 July in Cork Opera House. Other highlights include the Kronos Quartet (28 July, Cork Opera House), RTÉ Concert Orchestra performing works by Jonny Greenwood (Radiohead) and Kjartan Sveinsson (Sigur Ros) (29 July, City Hall), London Sinfonietta (30 July, Cork Opera House), Efterklang with Daniel Bjarnason and the Messing Orchestra (30 July, Savoy Theatre), Johann Johannsson (31 July, Triskel Christchurch) and Crash Ensemble with Iarla Ó Lionáird and Gavin Friday (31 July, Cork Opera House).
Crash Ensemble will perform Double Sextet for which Steve Reich was awarded the Pulitzer Prize for Music in 2009.
Local, national and international artists will come together to produce three special programmes of Reich's music: Counterpoint, Drumming and Phases. These will include two unique dance commissions. David Bolger will dance to Kate Ellis's Cello Counterpoint and Nic Gaireiss will dance Clapping Music. Both events take place in the Firkin Crane.
The Reich Effect is curated by Mary Hickson, Cork Opera House Chief Executive Officer, and the prize-winning cellist, chamber musician, and musician-in-residence in Cork Opera House, Kate Ellis.
Upon announcing The Reich Effect, Hickson said:
"It is such an honour to present musicians and composers of this calibre in Cork City. It is a wonderful opportunity for Cork to celebrate local talent also. I have always been hugely 'effected' by Reich myself since my time studying Music at UCC and it is a real privilege to invite him to Cork. Kate Ellis and I had great fun and deliberation selecting the programme for the festival and we look forward to your reaction and enjoyment over the few days in Cork!"
Budding electronic artists are invited to apply to the Reich Remix Competition. The finalists will be judged and selected by Steve Reich himself, having been shortlisted by a panel of high profile judges including Jim Carroll and Donal Dineen. Reich will also lead a Composition Seminar (places strictly by application).
Other events in Cork Opera House, City Hall, Firkin Crane, Pavilion and Savoy Theatre are currently on sale through Cork Opera House. More events in a variety of venues and outdoor sites will be announced.
The following Reich Event performances are currently on sale:
Wed 27 July, 8pm, Cork Opera House
STEVE REICH – PHASE TO FACE SCREENING
A film by Eric Darmon & Frank Mallet
Followed by Steve Reich public interview with John Kelly
Tickets €20*
Thu 28 July, 6pm, Firkin Crane
COUNTERPOINT
Carolyn Goodwin/Fiona Kelly/Niwel Tsumbu/Kate Ellis
Dance commission: David Bolger (CoisCéim)
REICH: New York Counterpoint
Vermont Counterpoint
Electric Counterpoint
Cello Counterpoint
Tickets €20*
Thu 28 July, 8pm, Cork Opera House
KRONOS QUARTET
REICH: Triple Quartet
The Cave (excerpts)
WTC 9/11 (Irish Premiere)
Different Trains
Tickets €38.50*
Thu 28 July, 10pm, Half Moon Theatre
KALEIDOSCOPE FOLLOWED BY DONAL DINEEN
Cliodhna Ryan and Kate Ellis will curate a special programme focusing on the music that influenced Reich himself.
Tickets €20*
Fri 29 July, 6pm, Cork Opera House
DRUMMING
O'Duo/ Stephen Kelly/ Alex Petcu Colan
Dance Commission: Nic Gareiss
GLASS: Mad Rush
REICH: Music for Pieces of Wood
Drumming Part 1
Six Marimbas
Tickets: €20*
Fri 29 July, 8pm, City Hall
RTE Cork Proms
RTÉ Concert Orchestra
Greenwood (Radiohead): Doghouse
Sveinsson (Sigur Ros): Credo
Tickets €30*
Fri 29 July, 10pm, Pavilion, Carey's Lane
REICH REMIX CLUB
Tickets €10*
Sat 30 July, 6pm, Firkin Crane
PHASES
Ciara Moroney/Michael Joyce/Elizabeth Cooney
Dance Commission: Nic Gareiss
REICH: Come out
Piano Phase
Clapping Music
Violin Phase
Tickets €20*
Sat 30 July, 8pm, Cork Opera House
LONDON SINFONIETTA AND SYNERGY VOCALS
REICH: Music for 18 Musicians
Tickets €38.50*
Sat 30 July, 10pm, Savoy Theatre
EFTERKLANG WITH DANÍEL BJARNASON AND THE MESSING ORCHESTRA
Tickets €25*
Sun 31 July, 6pm, Triskel Christchurch
JOHANN JOHANNSSON ENSEMBLE
Tickets €20* (also available from Triskel)
Sun 31 July, 8pm, Cork Opera House
CRASH ENSEMBLE
REICH: 2 x 5
DENNEHY: Grá agus Bás (featuring Iarla Ó Lionáird)
RZEWSKI: Coming Together (featuring Gavin Friday)
REICH: Double Sextet
Tickets €25*
REICH REMIX COMPETITION
Competition winners will be invited to perform at the Remix Club in the Pavilion on Friday 29th July. For application information please email reich@corkoperahouse.ie . Closing date for submissions is 17 June.
REICH COMPOSITION SEMINAR
Composers are invited to learn directly from the master himself. Places are limited and registration is essential. For an application please email reich@corkoperahouse.ie > .