Archive for the 'venues' Category
Analysis: an exhibition about Cork's Sir Henry's was an opportunity to show its historical, geographical, cultural and social importance
This week saw the annual IMRO live music venue of the year awards ceremony take place at IMRO headquarters in Dublin. Cork had a strong showing with the Opera House and Cyprus Avenue picking up awards. Both venues have played a part in bringing quality acts to the city over the past year, despite what has been perceived as a recent stagnation in international touring acts visiting these parts.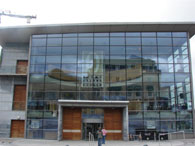 Coming out on top was the Cork Opera House with the IMRO National Live Music Venue of the Year award, voted by the public. The past year has seen a marked improvement in the range and quality of acts performing at the Opera House, some of the highlights including: Ryan Adams, Talvin Singh, The Blind Boys of Alabama and Bonnie 'Prince' Billy, as well as Irish acts Fred, Niwel Tsumbu, Jack L and James Vincent McMorrow.
Filling up the calendar too were a range of quality comedy acts, as well as perpetual OH favourites like Daniel O'Donnell, various showband nostalgia nights, even Crystal Swing and a string of sold-out Jedward shows, but tickets will be sold and bills must be paid! Special mention must be given for stand-out events such as the series of shows for The Reich Effect (celebrating Steve Reich's 75th birthday), The Knife's Darwin electro-opera 'Tomorrow, in a Year', Icebreaker & BJ Cole performing Brian Eno's Apollo, and the UCC Gamelan Ensemble (who are returning in April).

Upcoming highlights at the Cork Opera House include Professor Green, The Magnetic Fields and Transcendentalists (Jóhann Jóhannsson, Hauschka and Dustin O'Halloran), with some impressive local & Irish acts lined up in the form of Mick Flannery, Kormac's Big Band with the West Cork Ukelele Orchestra, and Cork Rocks The House.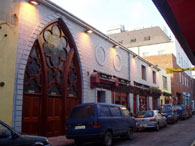 Meanwhile, Cyprus Avenue have been awarded Best Live Music Venue in Munster for the second time, having won the inaugural award in 2008. Last year saw some epic, loud gigs like Swans, Earth and Therapy, and brought back classic Irish acts Whipping Boy and Cry Before Dawn. International touring highlights (for this author at least) included And You Will Know Us By The Trail Of Dead, Austra, John Grant and The Antlers.
More information:
IMRO Live Music Venue of the Year Awards 2012
www.corkoperahouse.ie
www.cyprusavenue.ie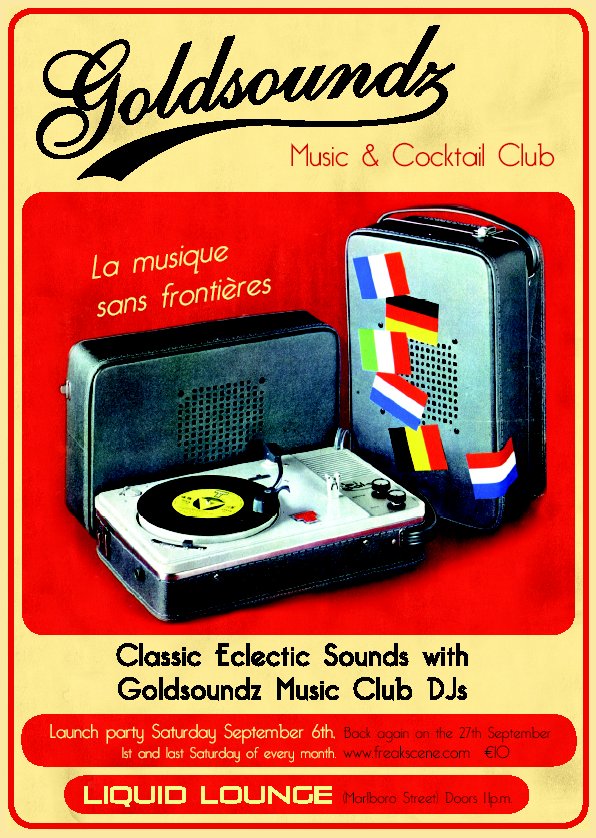 Goldsoundz returns to the Cork clubbing scene once again but with greater fanfare, self assurance and even more grandiose claims than ever before! Goldsoundz Music and Cocktail Club promises style, decadence, eclectic tasteful music and cocktail waitresses providing table service in the luxurious setting of the Liquid Lounge on a Saturday night!

Goldsoundz is named after a Pavement song, but its latest incarnation also draws on the Tom Waits' song '(Looking for) The Heart Of A Saturday Night', and promises something special to all those who 'are tryin' to wipe out ev'ry trace [of] all the other days' . The music will be a mixture of alternative modern classics, with some sixties music, jazz and funk all selected to compliment the jazzey loungey ambience of the liquid lounge.

Patrons are encouraged to 'be reachin' their peak' (another lyric from said Tom Waits song) and dress stylishly and/or in retro style. Recommendations for style ideas include 50s-60s lounge/surfer style or how you might dress going to an old Jazz Club….retro suits or cocktail dresses would be brilliant!

Goldsoundz's famous cocktail menu features a selection drinks all named after classic songs, anyone for a 'Blue Monday', 'Rock The Casbah' or a 'Sexy Boy'? ….but do beware the cocktail named 'Girlfriend In A Coma'!!

Complimentary food will be served at the launch party on Saturday September 6th in the Liquid Lounge!!
The Liquid lounge in association with Craichouse promotions is proud to announce the creation of a brand new comedy night for Cork city.
This comedy night will be called "GAS" and will be on every Tuesday from the 18th of September in the Liquid Lounge, Marlboro Street, Cork.
GAS will primarily be aimed at the student population of The Rebel capital but is open to any fan of comedy. We will host some of the best new and established comedians working in Ireland today.
The people behind the comedy come with a good pedigree; they have been responsible for the running of The Craichouse Comedy Club For the last 3 Years and in that time it has become Corks premier comedy venue for new and up and coming comedians. We've helped launch the careers of local comedy icons such as Maeve Higgins, Eleanor Tiernan, Kevin Goldsmith, Johnny P, and Ross Brown and more. They are also on a first name terms with every new and up and coming comedian in Ireland today. This allows them the expertise to bring only the best comedians for the students of Cork.
They have also had successful runs in the 2004, 2005 and 2006 Kilkenny Cat Laughs Comedy Festivals, where more than 300 people filled the seats each year. And this year held the inaugural "Craic me up" comedy competition to find the best new comedian in Ireland.
The good people at Gas will also be giving a very new comedian an open spot every Tuesday night thus continuing out commitment to showcasing emerging stand-up comedians, so if you think you are brave enough why not try out. So if you like your comedy Raw and in your face then GAS is the place for you, sure it is bound to be gas.
All gigs have the following details.
Time: 9pm sharp
Venue: Liquid Lounge, Marlboro Street, Cork.
Price: €7/5 for students.
The Line Up
Tuesday Sept 25th
Neil Hickey
Neil Hickey began his stand up career just over three years ago, and in this short time he has performed his thoughtful, warm and witty brand of humour in all the major comedy venues across Ireland. A native of Dublin, Neil is a regular performer in the city's most established comedy clubs, including the International Comedy Club, The Comedy Cellar, The Capital Comedy Club and the Laughter Lounge. In 2005 Neil won the Bulmers International Newcomers Comedy Comp and as a result supported Bill Bailey in Dublin's famous Olympia Theatre.
Following this, Neil made his Irish television debut appearing on RTE's Liffey Laugh stand up show, and then rounded off a fantastic 2006 by winning the Irish heat of the Amused Moose Laugh off Comp. More recently, Neil was selected to perform at the 2007 Irish Just For Laughs Montreal Showcase, and performed as part of the official line up for this year's Kilkenny Cats Laughs Comedy Festival. Neil Hickeys stand up career looks like it will continue blossom for many years to come.
Tuesday Oct 2nd
Sharon Mannion
Sharon made her stand up debut at the Kilkenny Cat Laughs Festival 2005. Since then she has been gigging regularly in The Hapenny Inn (also as M.C), The International, Bankers, Capital Comedy Club, Crawdaddys, (Dublin), Cuba (Galway), Empire (Belfast), Comedy Den (Limerick) and various clubs around the country. She was a finalist in last year's Best Stand up newcomer competition at the Bulmers International Comedy Festival, and she appears regularly with the Hapenny Laugh and The Craic Pack improv comedy troupes. She was also Runner-up in the 2007 Funny Women competition. A rising star, she's one to watch.
"Sharon Mannion seems to have stolen Tommy Tiernan's soul" Chortle.co.uk
Tuesday Oct 9th
Ross Browne
Ross is a very funny, self indulgent, I love me and so do all the girls in Ireland kind of comedian. He is also a part-time wrestler, so hecklers beware.
The Craichouse had a front seat to the blossoming career of Ross and the success of the club is in no small part due to the excellent job that Ross does as M.C. A ball of energy that is not afraid to do anything to get the crowd going, he's a sharp dressed man with an equally sharp tongue who will be the next big comedy superstar to come out of Cork.
Tuesday Oct 16th
JOHN CAPLIS
John has been performing comedy on the Irish comedy circuit for over three years now. He made his first appearance as a nervous open mic at the comedy club in Scholars Bar UL during his days there as a history and politics student.
Luckily for John it went well and since that first night nearly three years ago he has gone on to perform in all of Ireland's main comedy clubs including The Laughter Lounge in Dublin, The Empire in Belfast and City Limits in Cork.
In the last year he has also supported Des Bishop, Neil Delamere and Jim Eoin. Across the water he has performed at the world famous Comedy Store in London and currently runs and hosts monthly comedy clubs at Riddler's Bar in Limerick City and the Kenyon Comedy Club in Nenagh Co. Tipperary, which hosts top acts from all over Ireland. John describes his stand-up routine as a "fusion of anecdotes from his working life which includes reading funeral notices on pirate radio in Limerick city to picking fruit in obscure remote Australian towns.
Tuesday Oct 23rd
Gar Murran
In September 2006 Gar won the Bulmers Comedy Competition held in Dublin and the prize for this was to support Puppetry of the Penis for two nights in the Olympia Theatre to over a thousand people and he has not looked back since. He has performed in The Laughter Lounge, The International Bar, Comedy Cellar, Capital Comedy,(Battle of the Axe) Ha'Penny Bridge Inn in Dublin, The Roisin Dubh, The Cuba Club, and DeBurgo's in Galway amongst others.
Tuesday Oct 30th
Fred Cooke
County Meath has already given Irish comedy two Perrier Award winning legends in Tommy Tiernan and Dylan Moran. Fred Cooke is hotly tipped by those in the know to join their coveted ranks in a couple of years- so see him here first. Having started out in comedy by running gigs while he was still in college, Fred has already gone on to support such acts as Jason Byrne, Ross Noble and David McSavage. His career seems to be following a similar trajectory to that of Jason Byrne, as his off the wall, high octane, manic brand of surreal genius has seen him become a crowd favourite amongst Irish audiences as well as being in insane demand in the country's third level institutions. He has played all over Ireland and Britain and has even performed in New York, Australia and even Barcelona and Madrid. Catch him here so you can tell all your friends you were a fan before he became huge.
Tuesday Nov 6th
Keith Farnan
Having appeared on Irish Television in the second series of the Liffey Laughs, and the BBC Comedy series, One Night Stand, Keith Farnan is beginning to make an impression on a wider audience with his intelligent and charming onstage persona. With performances in the Edinburgh Festival "Best of the Irish" and the Kilkenny Cat Laughs Festival, and having played across Ireland and the UK, Keith is rapidly building up a reputation as one of the most energetic and entertaining of the new Irish acts to watch.
As a regular host of Ireland's biggest comedy venue, the Laughter Lounge, as well as a frequent headliner in Ireland's oldest venue, the Comedy Cellar, he has honed his ability to weave audience interaction with sharp observations to create a mesmerizing set. He has also enthralled American audiences in some of the biggest clubs in New York, performing with comedians and writers from Saturday Night Live and ESPN as well as appearing in the New York Underground Comedy Festival.
"Possessed of Talent, Focus and Energy." Hot Press.
"Irelands latest Comedy Star " Irish Examiner
"Keith Farnan is an absolute natural" Chortle
—————————————————————————————————————————————————————————————————————
Line up for The Craichouse comedy club:
All gigs have the following details.
Time: 9pm sharp
Venue: Slainte (formally the vineyard) Market lane, Patrick street, Cork.
Price: €7/5 for students.
Sunday September 23rd
Darren Shine (Des Bishop's, Joy in 'Da Hood, Network 2)
Chris Kent (Cuba, Galway/ City Limits/ Laughter lounge, Dublin)
Johnny P (Kerry comedian of the year '06, '07)
Donnchadh O'Conaill (Chortle student comedian of the year '06, London)
Sunday September 30th
Abie Bowman (Jesus: The Guantanamo years)
Colin McCarthy (Cuba, Galway/ City Limits/ International, Dublin)
Alan Hurley (UCC student comedian of the year '05 )
Sunday October 7th
Breen Crotty (Craic me up semi-finalist)
Dylan Holland (Basement comedy comedy club, Galway/ Neptune comedy club, Dublin)
Eoin Keegan (Craichouse Craic me up Winner '07)
Sunday October 14th
Niamh Marron (Bulmers comedy competition finalist '07)
Pat O'Shea (Des Bishop's, Joy in 'Da Hood, Network 2)
Dave Coughlan (UCC student comedian of the year '06)
Sunday October 21st
Eoin Keegan (Craichouse Craic me up Winner '07)
Johnny P (Kerry comedian of the year '06, '07)
Kevin Loughlin (Comedy cellar, Dublin)
Sunday October 28th (Jazz weekend)
Musical night of comedy
All comedians will be playing musical comedy
Alan Hurley (UCC student comedian of the year '05 )
David Duff, (aka Christ with a k)
Jamie O'Shea (Des Bishop's, Joy in 'Da Hood, Network 2)
Eoin Murphy (Craichouse craic me up finalist '07)
The programme for the Cork Midsummer Festival was launched on Tuesday last in the Bodega. The festival, which runs from Tuesday 19th – Saturday 30th June, will this year feature, among other highlights, the biggest Spiegeltent line-up yet. Our interest is mostly in the live music events during the festival and again this year a lot of Cork favourites will perform at the Spiegeltent, including John Spillane, Mick Flannery, The Frank & Walters and the Sultans of Ping. Red FM's Stevie G will host an evening showcasing young Cork talent from all genres, and needless to say this event will be open to attendees of all ages. Other notable gigs include Kila, Karan Casey, Camille, Julie Feeney and Karen Egan.
Full Spiegeltent lineup here: www.corkfestival.com/spiegeltent.html
Important note about Spiegeltent gigs:
Each night the doors will open for the first show at 6.30pm and at 9.15pm for the second show. There will be two performances, one from 7pm and one from approximately 9.30pm onwards. Please note that the advertised time of the show is the start time.
Please note that the Spiegeltent is a mixed seated/standing venue and your ticket guarantees entry to the tent but does not guarantee a seat. Subject to licence and permissions.
Due to licensing laws, all tickets for the Spiegeltent must be booked at least 24 hours in advance
It's not all about the Spiegeltent of course; Fans of jazz, choral, world and chamber music will find events to suit them in venues like the Triskel Arts Centre, the Everyman Palace Theatre and St Fin Barre's cathedral.
More information can be found on the festival website: www.corkfestival.com
Aiken Promotions have finally confirmed the latest two acts to fill the Marquee bill for this year. Elton John will perform on July 9th, while 50 Cent appears on July 4th. This is great news for the thousands of music lovers who are great fans of both artists; no doubt there will be a significant overlap of the attendance at both concerts.
More information on all the gigs can be found on the Aiken Promotions website:
www.aikenpromotions.com
Tickets for most of the marquee gigs are already on sale through Ticketmaster:
http://www.ticketmaster.ie/promo/yuugg6?tm_link=tm_home_f1
Tickets for Elton John and 50 Cent go on sale on Friday (18th May) morning at 9am.
The Marquee location can be seen here: Live at the Marquee map
The full line up of confirmed artists for the Marquee is as follows:
Wed 20 Jun Faithless €57
Thu 21 Jun Antony and the Johnsons tbc
Sat 23 Jun Comedy Circus: Jason Byrne, Adam Hills & PJ Gallagher €30
Sun 24 Jun [Comedy] Podge & Rodge €40
Tue 26 Jun Slayer + Mastodon €45
Thu 28 Jun Cascada €32
Fri 29 Jun Duran Duran €65
Sat 30 Jun The Who €76 – €86
Sun 01 Jul Bell X1 €40
Mon 02 Jul Status Quo €50 – €66
Tue 03 Jul The Flaming Lips €50
Wed 04 Jul 50 Cent €60 – €65
Thu 05 Jul Madness €60 – €65
Sat 07 Jul Christy Moore & Declan Sinnott €40 – €50
Mon 09 Jul Elton John €80 – €90
Wed 11 Jul Lionel Richie €65 – €70
Beale Street Blues Bar has been open almost a year now and was previously mentioned here. They've got some great weekly bands/sessions and the odd visiting act. Right now we don't list weekly events on the main page to keep it clear and concise, but I wanted to put these somewhere they would be seen. So…
Live Gigs at BealeStreet Blues Bar
3 Union Quay, Cork [Map location]
021-4964900
www.bealestreetcork.com
All gigs free admission
March 2007:
Thu 8th, 9.30pm — Blues Jam session
Fri 9th, 10.30pm — BealeStreet Blues Band
Sat 10th, 10.30pm — Slumming Angels – a tribute to Rory Gallagher
Mon 12th, 10.30pm — Brian Tambling Robert Harley – playing the blues
Tues 13th, 9.30pm — SwingStreet
Weds 14th, 10.00pm — Roy O'Driscoll — Folk/Blues Show
Thurs 15th, 9.30pm — Blues Jam Session
Fri 16th, 10.30pm — BealeStreet Blues Band
Sat 17th, 10.30pm — Live Blues
Mon 19th, 9.30pm — Brian Tambling & Robert Harley — playing the blues
Tues 20th, 9.30pm — SwingStreet
Weds 21st, 10.00pm — Roy O'Driscoll — Folk/Blues
Thu 22nd, 9.30pm — Blues Jam Session
Fri 23rd, 10.30pm — BealeStreet Blues Band
Sat 24th, 10.30pm — Live Blues
Mon 26th, 9.30pm — Brian Tambling & Robert Harley –acoustic blues
Tue 27th, 9.30pm — SwingStreet
Thu 29th, 9.30pm — Blues Jam session
Fri 30th, 10.30pm — BealeStreet Blues Band
Sat 31st, 10.30pm — Live BluesFilme Kostenlos Frauen sexyKitzler spritzenMariam MPEG BehaarteFat woman fuckingKostenlos verspritzend Orgasmus MPEGs weiblichenGeschlecht Japanisch Mei Sawaialte pussy cunts Gray reifespeculum Anal insertionrasierte Reife kleinen Frauen Fotze Tittenschwanger mpg Milch
Sláinte (formerly known as The Vineyard)
Market Lane, Patrick Street, Cork — [map location]
021 4274793
No pictures or reviews of this place yet, but we'll update here when we have something. Meanwhile, here's their events schedule…
Paddys Weekend line up
Fri 16th Carnevale featuring The Sunbeams with BBQ. doors 8pm Admission FREE
Sat 17th Paddys day All day session with the Ceili All Stars , BBQ, Face painting and many more..
3pm onwards all welcome
Sunday 18th Trad with Ceili all Stars and BBQ from 4pm and 8pm Jam Sesssion with an array of Cork's finest Musicians.
Friday 23rd of March Rock Hard
cork's finest rock cover band. doors 9pm. Free Admission
Easter sunday the 8th of april
the Roaring forties
Cork's own Swing band
www.theroaringforties.com
Every Tuesday TEXAS HOLD'EM POKER NIGHT@9pm
If your not in you can't win. For more details call into Slainte,
Every Wednesday @ 9pm .Ceili All Stars and Friends Open Trad Session
"Trad is not what it used to be…."
Funky Friday Every week with the Funkiest of Local djs spinning the Freakiest of tunes from Rock, Punk, Indie Jazz, Hip Hop, Electro, soul, disco and many more
" We got the Funk !…" " Get your Freak on"
Saturday "Sensual Saturday " Electronic Beats with masters of the decks.
1st Saturday of every month Moonlight at the Attic room @ slainte provides musical Fusion & Electronic sounds til late. Word of Mouth Food served @ 8pm. Tickets €10 from Plugd Records.
Every Sunday BBQ and Lounge music @ 6pm with an array of local musicians from Cork.
Check out Slainte for a bit of Craic agus Ceoil! Purveyors of Wines , Beers, Spirits , Ales & Especially Tall Tales!
A Feast not to be missed!
Admission free for all gigs except Moonlight.
Good news for fans of stand-up comedy, as regular comedy nights are becoming more established in Cork.
Stand Up And Be Counted Comedy Club will set up residency in the Tikki Lounge on Little Hanover St. on the 27th of February, and continues every Tuesday with no cover charge.
The Craichouse comedy night at Eddies Bar (formerly the L.V.) has been going strong for over two years. An established comedy club with an ever-evolving lineup, Craichouse also showcases new talent and has helped launch the careers of many aspiring local comedians. In the coming weeks, a new competition called "Craic me up" will see emerging talent battle it out for the chance to gig at the Kilkenny Cat Laughs comedy festival. Full details of upcoming lineups can be found on the Craichouse website.
Cyprus Avenue will host a new monthly comedy event — Barrel O'Laughs — kicking off on Friday February 23rd with Ian Coppinger plus guests. Tickets at €10 are available on tickets.ie and from the Old Oak bar.
The Lisa Richards Comedy Night is a touring co-op comedy night with a range of decent Irish talent on the books. For those down in wesht Cork direction, De Barra's hosts its comedy night once a month, with Ardal O'Hanlon, David O'Doherty and Neil Delamere making appearances in the coming months.
And of course there's the mainstay of the Cork comedy scene City Limits Comedy Club, with a reputation for brining the major names to Cork down through the years. Upcoming highlights at City Limits include Eddie Brill, Omid Djalili, Matt Saddlier, Jason Byrne & Andrew Maxwell.
—————————————————————-
Summary:
—————————————————————-
Stand Up And Be Counted Comedy Club, every Tuesday @ the Tikki Lounge, Little Hanover St. [map] No cover charge

Craichouse Comedy, every Saturday @ Eddie's Bar (formerly the L.V.), McCurtain St. [map] Admission €7 / €5 (concession)
Sat 24 Feb 2007 — Alan Hurley, Breen Crotty + more
Sat 03 Mar 2007 — "Craic Me Up" Launch Night w/ Shantz
Sat 10 Mar 2007 — George Fox + 'Craic me Up' heat 2
Sat 24 Mar 2007 — Matt Sadlier + 'Craic Me Up' heat 3
Sat 31 Mar 2007 — Willa White + 'Craic me Up' heat 4
Barrel O'Laughs – monthly comedy night @ Cyprus Avenue, Caroline St. [map]
Fri 23 Feb 2007 — Ian Coppinger €10
De Barras Comedy night, monthly @ De Barras, Clonakilty, Admission €15
Wed 21 Mar 2007 — David O'Doherty
Wed 18 Apr 2007 — Neil Delamere
Wed 21 Feb 2007 — Ardal O'Hanlon
City Limits Comedy Club, Coburg Street [map], admission varies
Fri 23, Sat 24 Feb 2007 ———– Ardal O Hanlon w/ MC Jason Coughlan
Thu 01 Mar 2007 —————– Willa White + Fred Cooke
Fri 02, Sat 03 Mar 2007 ———– Eddie Brill
Thu 08 Mar 2007 —————– Dermot Whelan + Alan Hurley
Thu 15 Mar 2007 —————– Aidan Bishop + Keith Anderson
Fri 16, Sat 17 Mar 2007 ———– Omid Djalili
Thu 22 Mar ———————– Neil Hickey + Colin Ryan
Thu 29 Mar 2007 —————– Matt Saddlier + Colin McCarthy
Fri 30, Sat 31 Mar 2007 ———– Jason Byrne
Sat 07, Sun 08 Apr 2007 ———- Pj Gallagher
Fri 04, Sat 05, Sun 06 May 2007 — Neil Delamere
Fri 08, Sat 09 Jun 2007 ———– Andrew Maxwell